Our local restaurant
with a modern 21st century twist
situated in the Giant Mountains.
Enjoy our menu anytime during
the opening hours.
Wednesday – Saturday
11.30 – 14.30 a 17.30 – 22.00
Sunday
11.30 – 16.00
As in :
[ V - Visit us.
M - Make an order.
D - Dig in. ]
A traditional mountain region specialty made of horseradish and apples.
There are certain values, which stand behind every task well done. Here are ours:
Respect for the product
Every ingredient entering our restaurant is treated with respect, to make sure its essence remains unchanged.
Techniques
Smoking, charcoal roasting, fermentation and marinating. Gentle heat treatments, meat aging and other techniques that accompany our daily routine.
Flavours
We prefer to work without mixing the flavours too much. The dishes that appear on our menu are created with a focus on the origin and tradition… we simply are a restaurant in the Podkrkonoší region and we hope you'll notice it on your plate.
The tradition
Just as we chose the name of our restaurant, we also created, the staff outfits with our local traditions in mind. Both our name as well as our uniforms were inspired by the folklore of our region.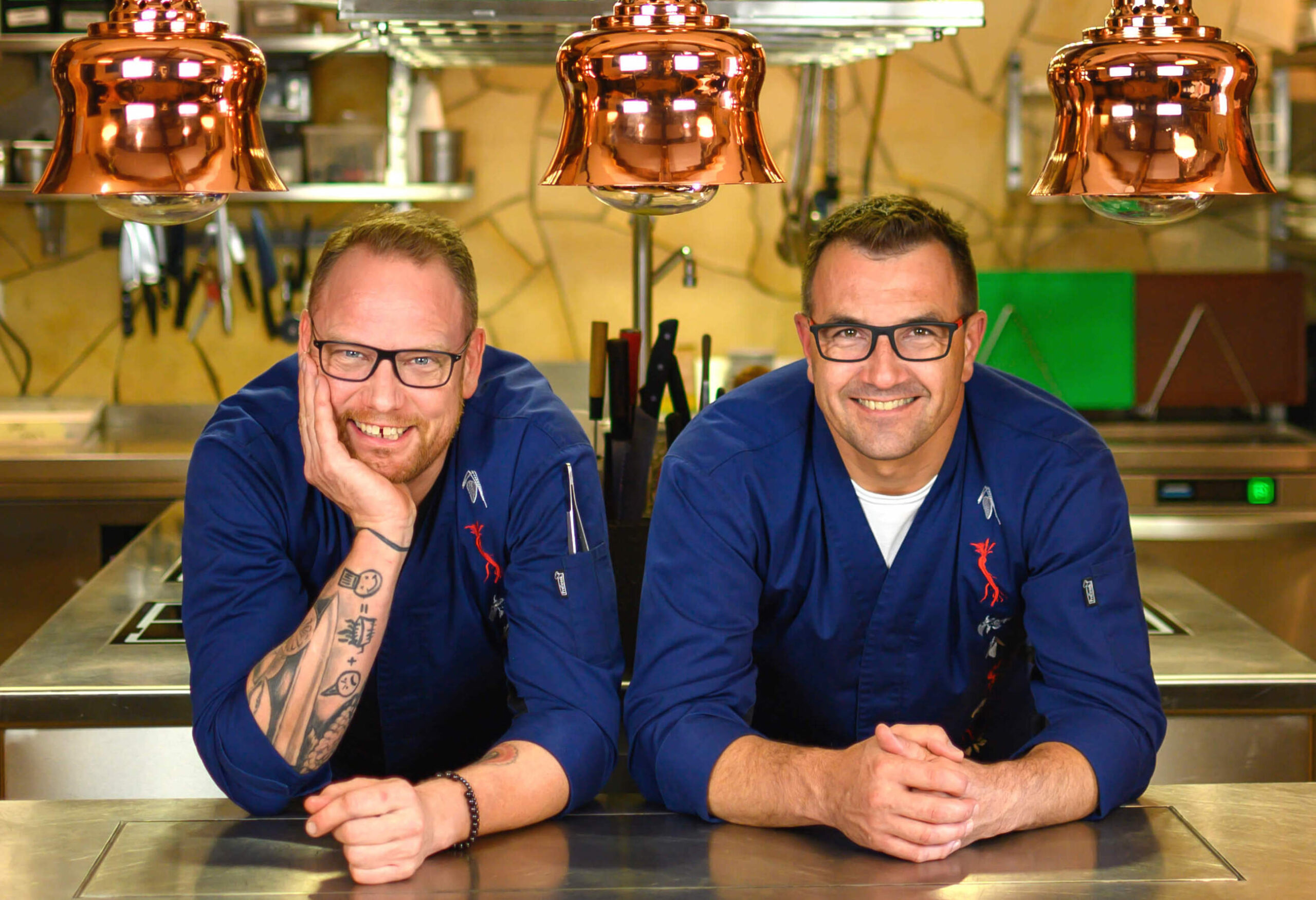 the founders
Tomáš Levý and David Suk
The founders of Vejmrda are Tomáš Levý and David Suk.

About Tomáš:
"After more than 18 years of traveling across the Czech Republic, I returned to my birth place and together with our team we're inspired to transfer our enthusiasm and experience onto your plates."

About David:
"Podkrkonoše is my home and gastronomy has been my lifelong passion. I love to entertain our guests during service, because Vejmrda is not "just" a restaurant to us"
Fine Dining Experience Getaway
The tasting stay can be booked in the evening hours for the restaurant Vejmrda ( Wednesday, Thursday, Friday and Saturday).
The stay includes a five-course tasting menu compiled from our chef's selection. Per request, we will complement it with a soft drink or wine pairing.
You can stay with in double rooms with the possibility of an extra bed. There is also an apartment with its own kitchenette. 
Each room includes a bathroom with shower and toilet, LCD TV and free wireless internet access.
Upon agreement with the management you can bring your dog or other pets for an additional fee